Aristama Roesli is Dataxet's the Head of Data Science with years of experience in computer science with a focus on data mining, machine learning, natural language processing (NLP), deep learning, artificial intelligence, and agent-based technology. He has been involved in several conferences to spread knowledge about data science itself and helps brands to benefit from it.
In this session, dataxet:sonar's Marketing, Elizabeth Grace, discussed with Aristama Roesli regarding ChatGPT and how it will disrupt the Indonesian media landscape & creative industry. From Indonesian general reactions, the future of generative AI in Indonesia and how local industries can benefit from it.
How ChatGPT Will Disrupt & Transform The Creative and Media Industry in Indonesia
Grace:
Hello Aristama, it's great to be speaking with you today. As the Head of Data Science at Dataxet Group, we're excited to hear your insights on the impact of ChatGPT and generative AI on the Indonesian media landscape and creative industry!
Aristama:
Thank you, Elizabeth. I'm thrilled to be speaking with you today as well. As you mentioned, ChatGPT and generative AI are rapidly gaining popularity in Indonesia, and its potential impact on the media landscape and creative industry is enormous. I look forward to sharing my thoughts and insights with you.
Grace:
Can you give us, the general reader, a short background of Generative AI before we discuss ChatGPT itself?
Aristama:
Sure, Generative AI is a subfield of AI that focuses on creating or generating new content, such as text, images, and videos. This is different from traditional AI, which mainly focuses on analyzing and processing existing data. Generative AI uses a variety of techniques, such as deep learning, natural language processing, and computer vision, to generate new content that is similar to human-created content. It's a rapidly growing field, and ChatGPT is one of the most popular models in this space.
Grace:
I reckon that ChatGPT isn't the only Generative AI that became viral in Indonesia. I heard of Midjourney, DALL-E, and Stable Diffusion, but never in ChatGPT capacity. What makes it different and what are their goals?
Aristama:
That's a great point. Breakthroughs like ChatGPT went viral because the product can be understood and enjoyed daily by a broader audience. This differs from previous breakthroughs like Internet of Things (IoT), Big Data, Cryptocurrency, etc that only a fraction of Indonesians understand. It has great potential since it already gives knowledge, instead of information like traditional chatbots and search engines. ChatGPT also generates human-like text replies with great accuracy. The goals of this invention are increasing efficiency and providing mankind with better solutions to common and sometimes complex problems.
Grace:
In your view, what are some potential use cases for ChatGPT in Indonesia?
Aristama:
ChatGPT has a wide range of potential use cases in Indonesia. One of the most exciting possibilities is developing new architectures for search engines. ChatGPT can also be used for explaining complex algorithms, creating personalized therapy bots, helping build apps from scratch, explaining scientific concepts, and writing college essays, among others. For example, you can apply generative AI like ChatGPT in customer support. Right now, many brands in Indonesia implement chatbots on their website for customers to ask questions. Later, those traditional chatbots will be replaced with generative AI to provide more accurate and human-like responses to customer queries. We already can see the overseas example like "Fin" by Intercom built entirely from ChatGPT and using the Generative AI approach.
Grace:
Amazing. So how are Indonesians reacting towards ChatGPT's great potential?
Aristama:
As seen anywhere else, I would like to categorize Indonesian citizens' reactions into two distinct categories. The first is Conservatives and the second is Adaptives. Conservatives are those who fear generative AI and view it as a tool that may lead to mass destruction, while Adaptives appreciate the innovation of generative AI. Conservatives might be concerned about copyright issues, ethical fears, and try to resist the adaptation of Generative AI like ChatGPT. Adaptives will be using it to simplify human work processes, making them more efficient, and creating better solutions. The adaptation to generative AI by these Adaptives will reshape the job market by making tasks that were once considered specialized or artisanal, accessible to a wider audience.
Grace:
Regarding the Conservatives, how do you think people should be reacting toward Generative AI technology like ChatGPT?
Aristama:
Although society may resist, the adaptation process toward generative AI is inevitable. In fact, the World Economic Forum estimated that 85 million jobs would be replaced by machines in 2025, and more jobs will emerge that adapt to the new division of labor between humans, machines, and algorithms. Rather than preventing the use of technology, Indonesians need to adapt to it and create better tools or expand its uses. One successful example of this is the widespread acceptance of ride-hailing apps like Gojek and Grab, which were initially met with resistance from some people and the government but are now considered hallmarks of Indonesian products.
Grace:
Then, what do you see in the future for ChatGPT in Indonesia, particularly the media landscape and creative industry?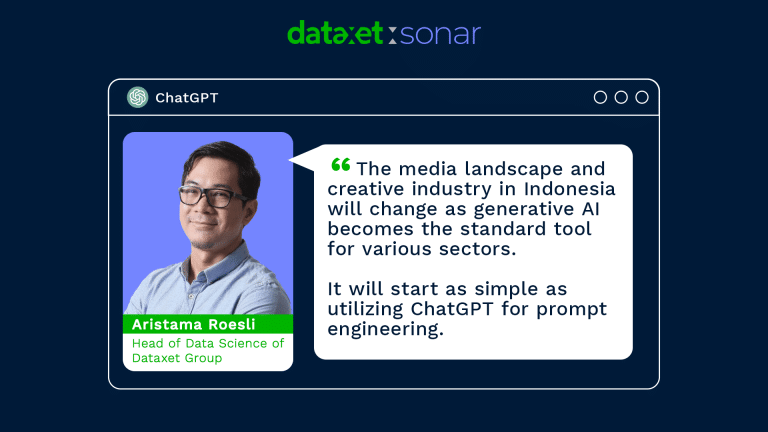 Aristama:
Eventually, the media landscape and creative industry in Indonesia will change. Like it or not, generative AI will become the standard tool for many and be applied to various sectors. It will start as simple as utilizing ChatGPT for prompt engineering. Prompts created by ChatGPT could be applied to other generative AI models like Midjourney. I predict two sides will emerge in the future. Those with capital will try to create localized Generative AI models, and the rest will adopt them to other sectors.
Grace:
As a data tech expert yourself, what do you think about the newly launched GPT-4?
Aristama:
I'm honestly excited but scared at the same time. GPT-4 has kept me awake at night contemplating how powerful and creative the A.I. is compared with a human's puny brain. GPT-4 has the ability to solve complex problems more accurately and in a fluent manner than its predecessor. It also can accept image and text inputs and provide text outputs in an accurate human-like answer. The potential is limitless and utilizing them may or may not bring humankind a better future.
Grace:
Finally, what are your recommendations for Indonesians exposed to this ChatGPT hype?
Aristama:
While the development of generative AI is rapidly progressing, I recommend waiting for further innovation. Preparing ourselves to adopt the technology is also crucial since the goal is to achieve better solutions and greater efficiency. Creating a regulation for generative AI and preventing its misuse potential is also one of the preparation steps that we need to prioritize to ensure its responsible usage.
Grace:
Love it! Thank you Aristama for your insightful discussion. I hope this can be beneficial to our readers and provide them with a better understanding of the potential impact of generative AI and ChatGPT in Indonesia. We appreciate your time and expertise on this topic. Thank you for sharing your insights with us today.
Aristama:
It's nice to discuss with dataxet:sonar too, thank you.