In the realm of skincare, the significance of sunscreen cannot be understated. The tropical nation of Indonesia, with its blazing sun, high UV levels, and escalating air pollution, presents a compelling case for understanding the sunscreen market dynamics. At dataxet:sonar, our comprehensive market research dives deep into this topic, revealing pivotal insights about consumer preferences and brand drivers in the sunscreen domain.
Our research revolved around three key questions:
1. Why do consumers use sunscreen?
2. Who drives the sunscreen brand landscape and why?
3. What attributes in a sunscreen product are most sought after by consumers?
We analyzed online conversations spanning local, Korean beauty, and global competitor brands across three distinct categories: Retail, Dermatology, and Luxury, for a meticulous understanding.
Sunscreen in the Age of Pollution
Sunscreen has become a hot topic due to several factors:
1. Appropriateness for Tropical Climate: In a country like Indonesia, where the tropical climate reigns, sunscreen discussions often hover around brand choices (19.4%), ingredients (13.4%), and SPF levels (8.2%). The inclination towards high SPF products is a direct result of the country's climate.
2. Trust in Reviews & Recommendations: A whopping 20,472 mentions were appreciation posts, mostly fueled by product reviews and recommendations. Other prominent discussion types included skincare tips and product suggestions.
3. Consumer Demands: Beyond reviews, elements like packaging, price, ingredients, and product availability—especially during the summer months—also influence consumer choices. With such conversations dominated by positive sentiment, it's a clear call to brands to enhance their social media strategies to capture this engaged and growing audience.
4. Navigating the Hashtag Landscape: The hashtag #racuninskincare has become synonymous with sunscreen discussions, particularly on platforms like Twitter and Instagram. Notably, brands like Azarine, Base, MS Glow, and Skintific are leading the conversations within this hashtag.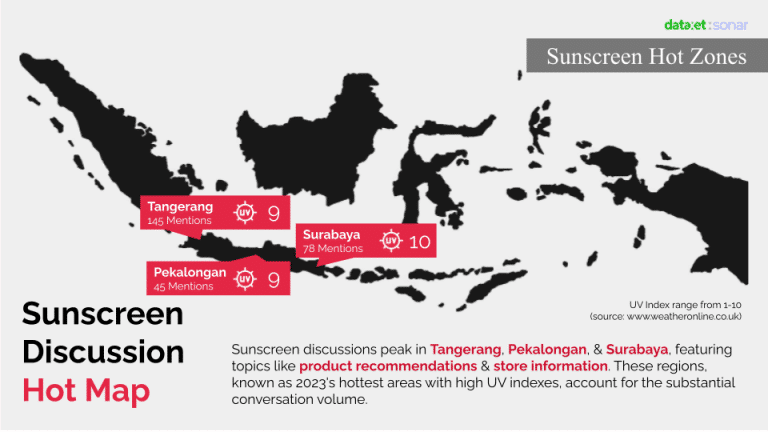 A Dive into the Sunscreen Discussion Hot Map
Indonesia's diverse landscape is reflected not just in its rich culture but also in its varied climatic conditions. The data indicates that sunscreen discussions have peaked in specific regions like Tangerang, Pekalongan, and Surabaya. Why is this notable? These regions have been identified as some of 2023's areas with the highest UV indexes. With the upswing in air pollution levels, especially in densely populated areas, the harmful effects of UV rays are further magnified. Prolonged exposure to these rays, combined with the pollutants in the air, can lead to faster skin aging, increased risk of skin cancers, and other skin-related issues. Thus, consumers from these regions are more proactive, seeking out information on the best sunscreens available that offer both UV and pollution protection.
Understanding Consumer Preference in the Modern Era
The digital age has made consumers more informed and discerning. The rise of online platforms has spurred an environment where consumers share their experiences, reviews, and product recommendations. A key revelation from our market research indicated that appreciation posts took the lead in sunscreen discussions. This denotes a positive trend where users aren't just seeking information passively but are actively appreciating and promoting products that they've had positive experiences with.
But it doesn't end there. Consumers today are looking beyond just the efficacy of the product. Elements like packaging, price, ingredients, and product availability, particularly during high-demand seasons like summer, also play a significant role in influencing buying decisions. The continuous discussions about these elements, especially in the face of rising air pollution, underscore the need for brands to adopt a holistic approach. It's not enough to offer a product that works; it has to be presented right, priced right, and be easily available.
A Closer Look at Specific Needs Amid Pollution Concerns
As the world grapples with the effects of climate change, rising pollution levels have become a critical concern, especially in rapidly developing countries like Indonesia. Air pollution doesn't just impact our respiratory health; it's also a significant threat to our skin. Pollutants in the air can accelerate skin aging, cause inflammation, and even exacerbate conditions like acne.
Understanding these concerns, consumers are now leaning towards sunscreens that cater specifically to their unique skin concerns exacerbated by pollution. Online buzz indicates that skin dullness and being prone to acne are top concerns for many. This makes sense since pollutants can lead to reduced skin barrier function, causing loss of moisture and making skin more susceptible to external aggressors. It's no surprise then that consumers are no longer looking for a 'one-size-fits-all' sunscreen. They want products tailored to their specific skin types and concerns. Whether it's a sunscreen that offers hydration or one that combats dullness caused by pollution, there's a clear demand for specialized products.
The dual challenge of high UV rays and increasing air pollution has heightened the need for efficient and tailored sunscreens in Indonesia. With consumers becoming more knowledgeable and discerning, brands have a golden opportunity to cater to these nuanced demands. Proper market research, like the one undertaken by dataxet:sonar, becomes instrumental in guiding brands to make informed decisions, ensuring they remain at the forefront of consumer preferences.
Market Research Conclusion
In this rapidly evolving beauty landscape, understanding the driving forces behind consumer choices is paramount. Our deep dive into the sunscreen preferences of Indonesian consumers has unveiled crucial insights that not only speak to the immediate demands but also to the broader trends influenced by the region's unique climate and current environmental challenges.
By delving into the multifaceted realm of sunscreen users, we've uncovered the true essence of what they seek: a product that not only protects against the tropical sun but also stands as a shield against the rising concerns of air pollution. From regional hotspots of discussion to specific skincare concerns, our market research paints a comprehensive picture.
Yet, this is just the tip of the iceberg. For those keen to explore deeper into our discoveries, to understand the nuances of the market, or to tailor their product lines to meet these distinct demands more effectively, dataxet:sonar stands ready to assist. Dive deeper into our comprehensive research and let us assist you in navigating these waters. To unlock the full scope of our insights and benefit from our expertise, don't hesitate to contact us.
Get the Full Report Now!
Download Sunscreen Market Research Report & Other Free Reports by Click the Button Below.