In the bustling Fast Moving Consumer Goods or FMCG industry, products compete for attention and customer loyalty. Amid this competitive landscape, one product stands out, consistently bringing the heat — the hot sauce, or "saus sambal" in Indonesia. In a culinary culture deeply in love with spice, it's no wonder the hot sauce industry thrives, driving a dynamic market environment.
Our comprehensive media monitoring reveals interesting aspects about the hot sauce market. We cover a vast range of data sources, including Facebook, Twitter, YouTube, Instagram, TikTok, blogs, forums, and online media. The goal? To uncover the hidden trends and insights that can help FMCG brands gain a competitive edge.
Saus Sambal - The Michelin Star of Sauces
Within the Indonesian culinary scene, hot sauce is a superstar. As our monitoring unveils, online discussions passionately cover sensory experiences linked to hot sauce. From its diverse flavor profiles and versatility in dishes to the balance of texture and taste, every aspect contributes to an evolving landscape of innovation.
A closer look at the conversation topics reveals intriguing trends. For instance, discussions about sauce ingredients accounted for 3,355 buzz, while recipes created 2,907 buzz. This data reflects the consumer's quest for diverse culinary experiences and their appetite for innovation in the hot sauce industry.
The Power of Endorsement through Recipe
While the hot sauce itself is a topic of interest, the conversation extends to its application. A majority of netizens exhibit a strong passion for culinary exploration, demonstrating a particular interest in how hot sauces pair with popular food choices.
FMCG brands have capitalized on this trend. By integrating hot sauce in popular recipes, brands effectively engage audiences, driving conversations around their products. Interactive initiatives, such as gaming events and giveaways, enhance customer interaction and foster brand loyalty, further underlining the power of creative endorsement.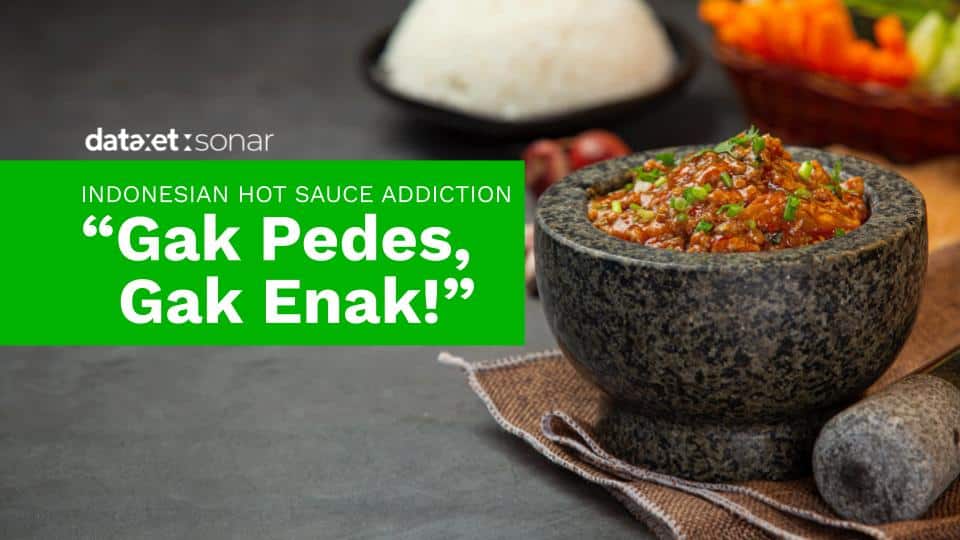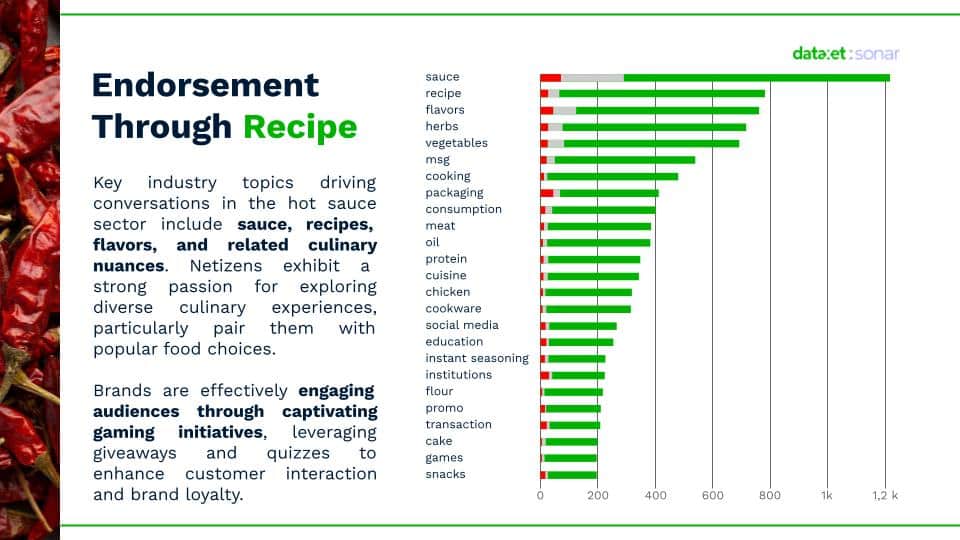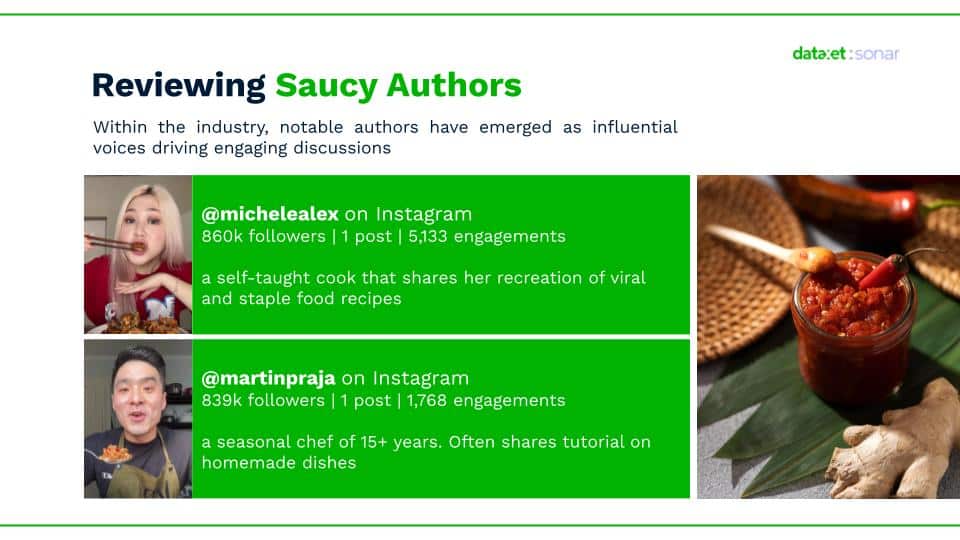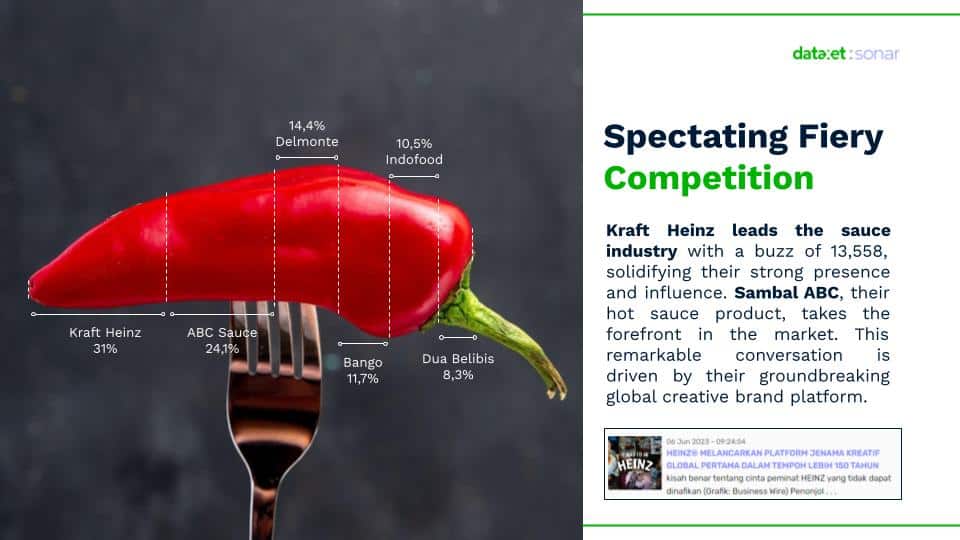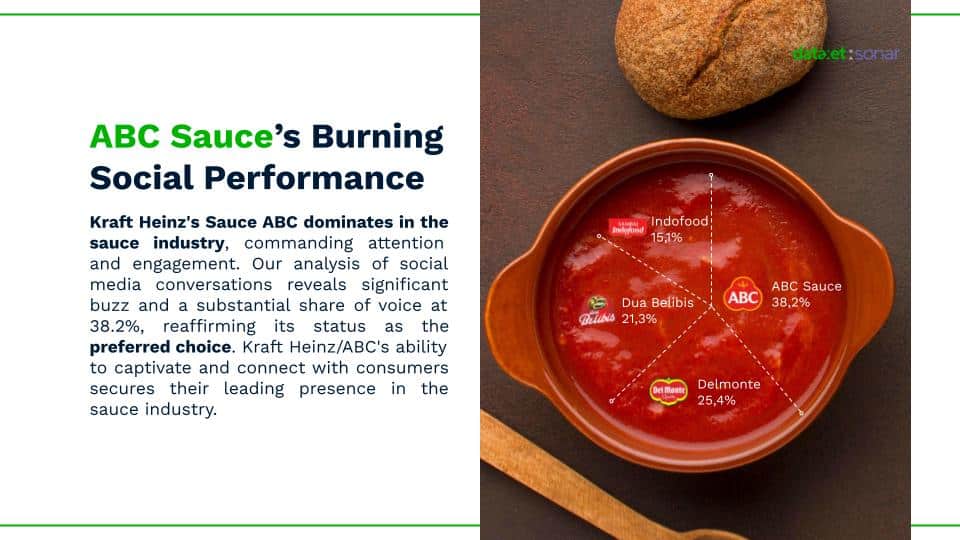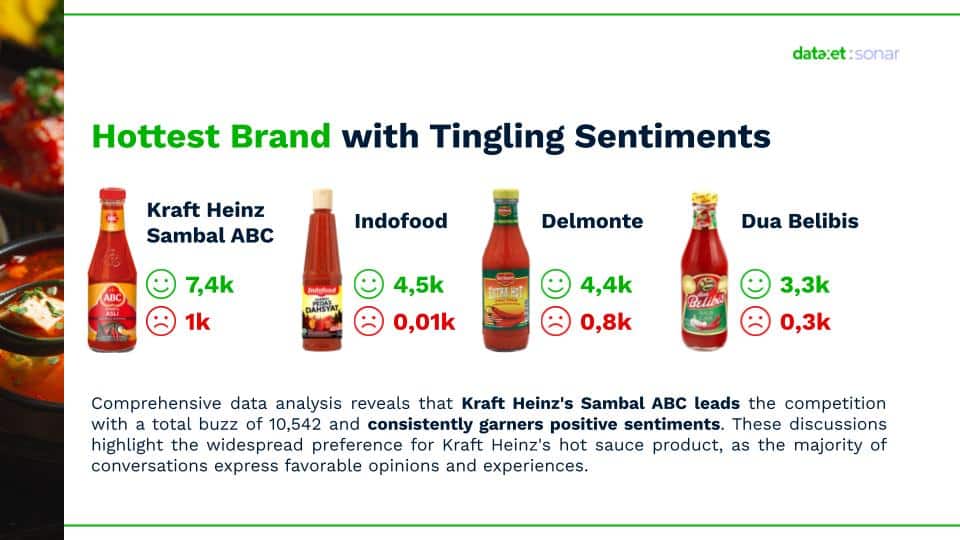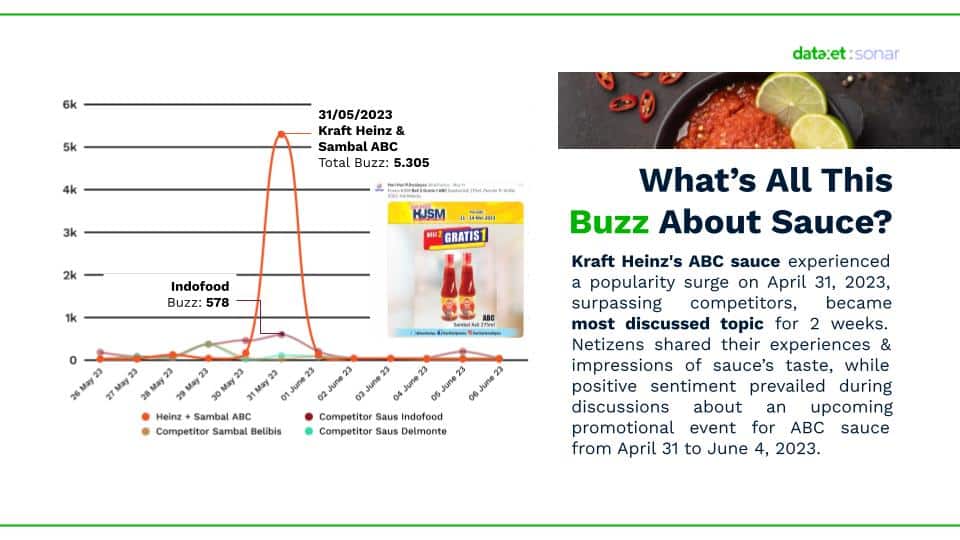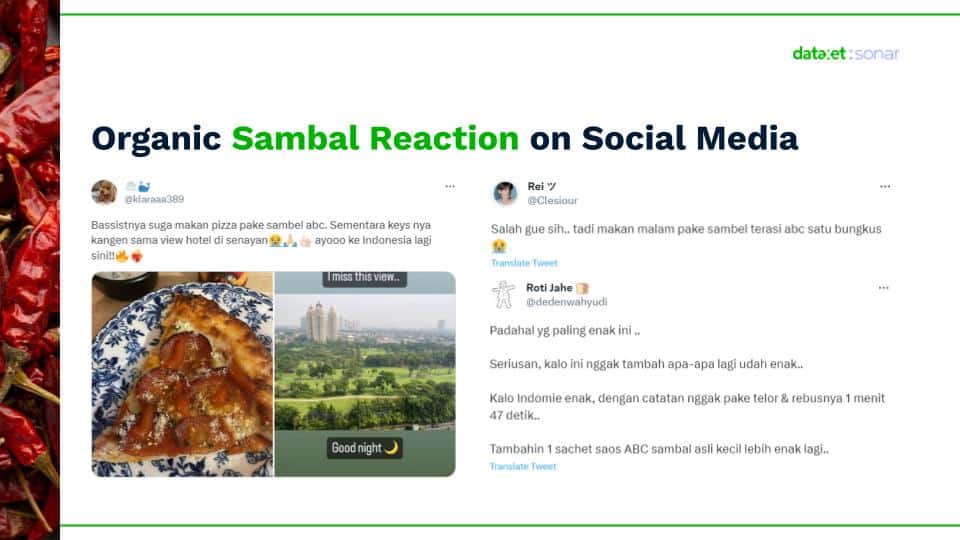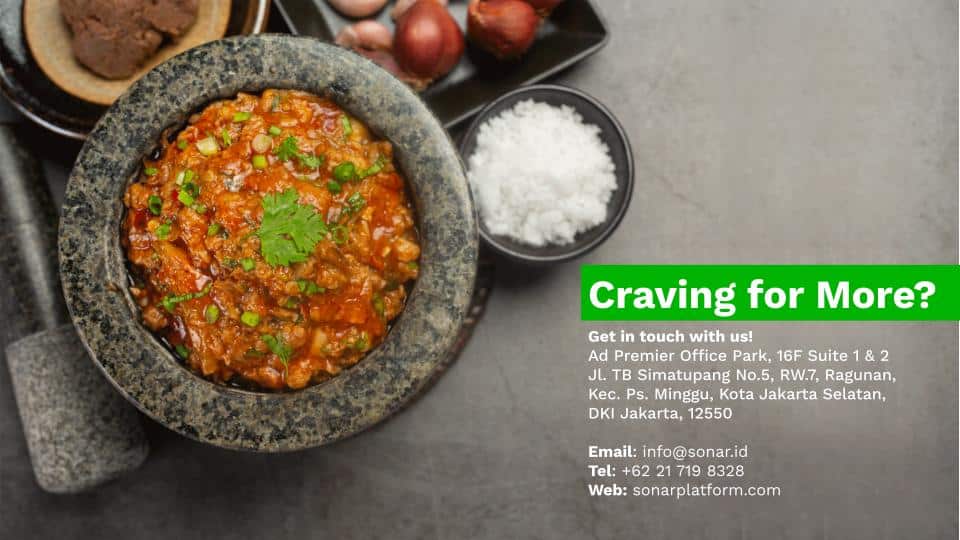 As we delve deeper into the digital landscape, we identify influential voices driving engaging discussions around hot sauce. Instagram food enthusiasts like @michelealex, a self-taught cook, and @martinpraja, a seasoned chef, are exemplary influencers.
These influencers share content about hot sauce and its usage in recipes, contributing significantly to the overall buzz. Their popularity and authority are reflected in their follower count and post engagements, reinforcing the importance of social media influencers in shaping brand perception and consumer choices in the hot sauce industry.
Observing the Fiery Competition
In the hot sauce market, competition is as fiery as the product. Kraft Heinz emerges as a leader, generating a considerable volume of buzz. Sambal ABC, their hot sauce offering, takes center stage in this discussion.
This surge in popularity can be linked to Heinz's recent launch of its first global creative brand platform in over 150 years, a move that has garnered significant attention. This example illustrates the importance of innovative marketing strategies in influencing brand competitiveness and visibility within the FMCG industry.
ABC Sauce's Sizzling Social Performance
Kraft Heinz's ABC Sauce commands attention in the crowded hot sauce market. Our analysis of social media conversations reveals a significant buzz surrounding the product, with a substantial share of voice at 38.2%.
This success is not accidental. Kraft Heinz/ABC's ability to engage in meaningful dialogues and resonate with consumers has been instrumental in securing its leading position in the hot sauce industry. It's an excellent example of how a strong social media strategy can bolster a brand's market standing.
Hottest Brand with Tingling Sentiments
Understanding consumer sentiment is crucial in assessing a product's market performance. Our data analysis reveals that Kraft Heinz's Sambal ABC leads in terms of positive sentiment, consistently receiving rave reviews. The product's popularity and positive feedback underline its status as a hot favorite.
Comprehensive analysis also reveals how brand competitiveness extends beyond buzz volume. The sentiment associated with each brand plays a vital role in shaping consumer perception and, consequently, market performance. Kraft Heinz's Sambal ABC, with its balance of positive and negative sentiments, exemplifies this.
What's All This Buzz About Sauce?
On April 31, 2023, ABC Sauce experienced a noticeable surge in popularity, leading the conversation for two consecutive weeks. The majority of this buzz centered around the sauce's taste, with consumers sharing positive experiences and impressions. The anticipation around an upcoming promotional event further fueled the discussions.
Events and promotions play a significant role in boosting brand visibility and engagement. As the example of ABC Sauce shows, effectively timed and executed promotional events can lead to a substantial increase in brand conversation and positive sentiment.
Organic Sambal Reaction on Social Media
Gauging organic consumer feedback provides invaluable insights into a brand's performance and its standing in the consumer market. Sample comments from real users paint a picture of public opinion towards hot sauce, particularly Kraft Heinz's Sambal ABC.
These organic reactions, whether in praise or critique, help FMCG brands understand consumer preferences and shape their marketing strategies accordingly. They provide an authentic and real-time evaluation of the brand, complementing other forms of market analysis.
In conclusion, understanding your audience and their preferences is key to success in the FMCG industry. Leveraging media intelligence can offer valuable insights that can help businesses stay ahead of trends, understand their target audience, and, ultimately, gain a competitive edge.
If your brand is looking to add some 'heat' to its market performance, it's time to harness the power of media monitoring and analysis. Dive deeper into your consumer's minds, their conversations, preferences, and critiques. It's here, in these discussions, that you find your route to success.
By using a platform like dataxet:sonar, businesses can not only monitor, but also analyze millions of data points from various sources. It eliminates the arduous task of manual data crunching, transforming it into a treasure trove of actionable insights.
In today's digitally connected world, the success of your FMCG brand is directly proportional to your understanding of your consumer's needs and preferences. Our comprehensive data analysis enables you to decode these complex consumer narratives, providing you the tools to steer your brand towards success.
In the end, it's not just about capturing the data, but making it work for your brand. That's what dataxet:sonar's media intelligence promises – to turn raw data into insights, and insights into action.