We're in the throes of an information revolution (hint: it's AI!). An ocean of data now floods our digital landscapes, presenting both tremendous opportunities and formidable challenges. For businesses and organizations, harnessing this deluge and using it to fuel informed decision-making is a top priority. This is where the power of media monitoring and social media analytics tools comes into play. But with data volume growing at a dizzying pace, the real game-changer is the technology that helps us sift through, interpret, and act on this data. That game-changer is Artificial Intelligence (AI).
In today's data-driven era, businesses across all sectors recognize the paramount importance of having the right media monitoring and social media analytic tool. However, as we navigate the tsunami of data made available through digital channels, collecting data is no longer the main challenge. The real hurdle lies in making sense of this extensive data and utilizing it to make effective decisions. The solution to this conundrum is definitely AI.
Let's consider a common obstacle most marketers and communicators face: creating custom reports for clients or management. This process is labor-intensive, demanding meticulous attention to detail, and is, without a doubt, a resource hog. Fortunately, there's now a more efficient solution – AI-driven insight reports.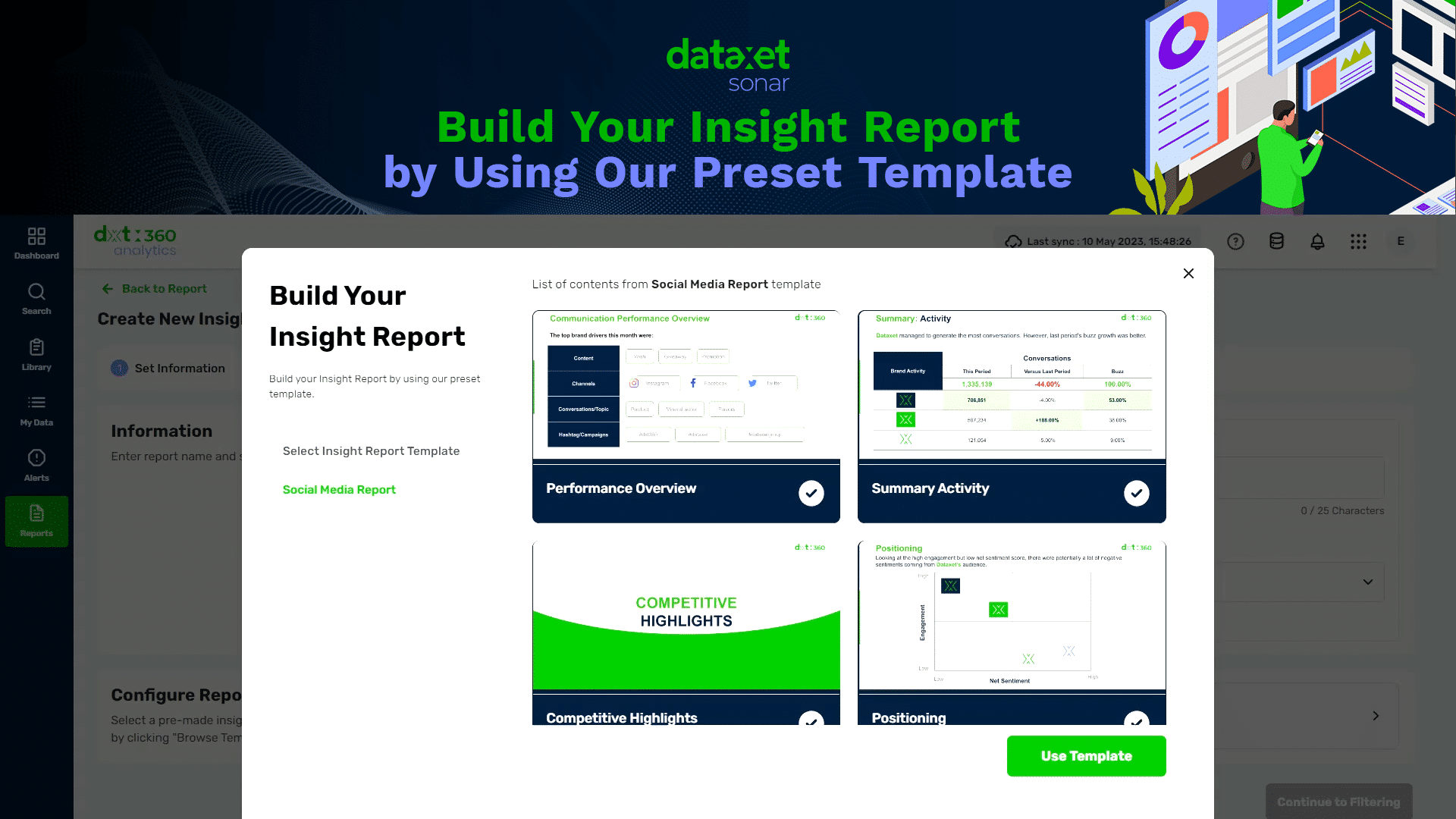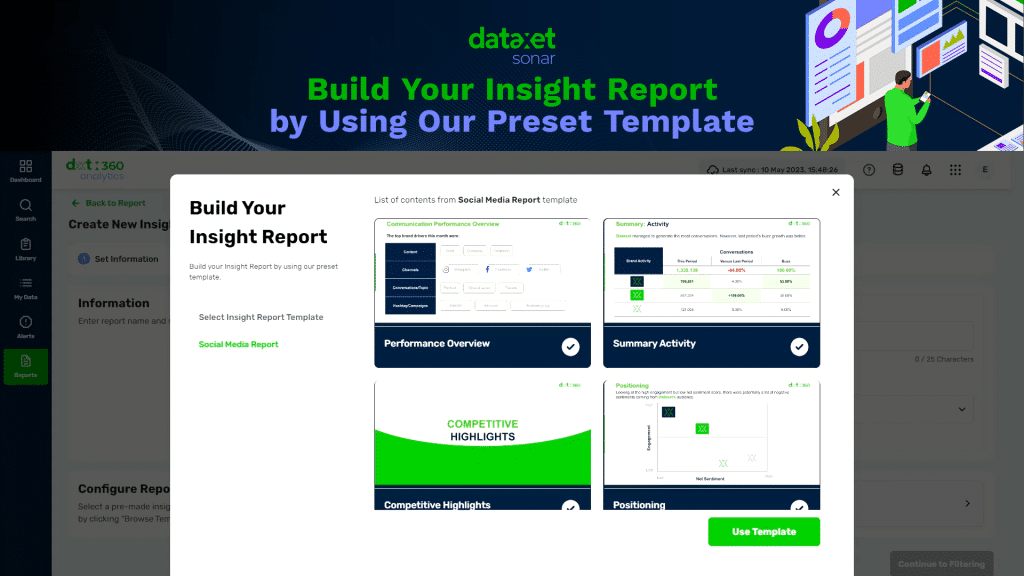 Unleashing the Power of AI-Driven Insights with Dataxet:Sonar
At Dataxet:Sonar, we're excited to unveil our newest innovation – comprehensive PowerPoint reports, generated directly from our platform. What sets these reports apart? They're powered by AI, enabling you to produce thorough reports within mere minutes, bypassing the need for long hours of data sifting or layout tweaking.
So, what exactly do these state-of-the-art insight reports offer? They provide in-depth metrics calculations, performance comparisons, and content analysis, all specifically tailored to your chosen campaigns and tags. By harnessing the power of AI, these reports deliver precise insights that empower you to make informed decisions. Need insights about your brand's standing compared to competitors? Or a breakdown of Share of Voice between your brand and competitors? We've got you covered!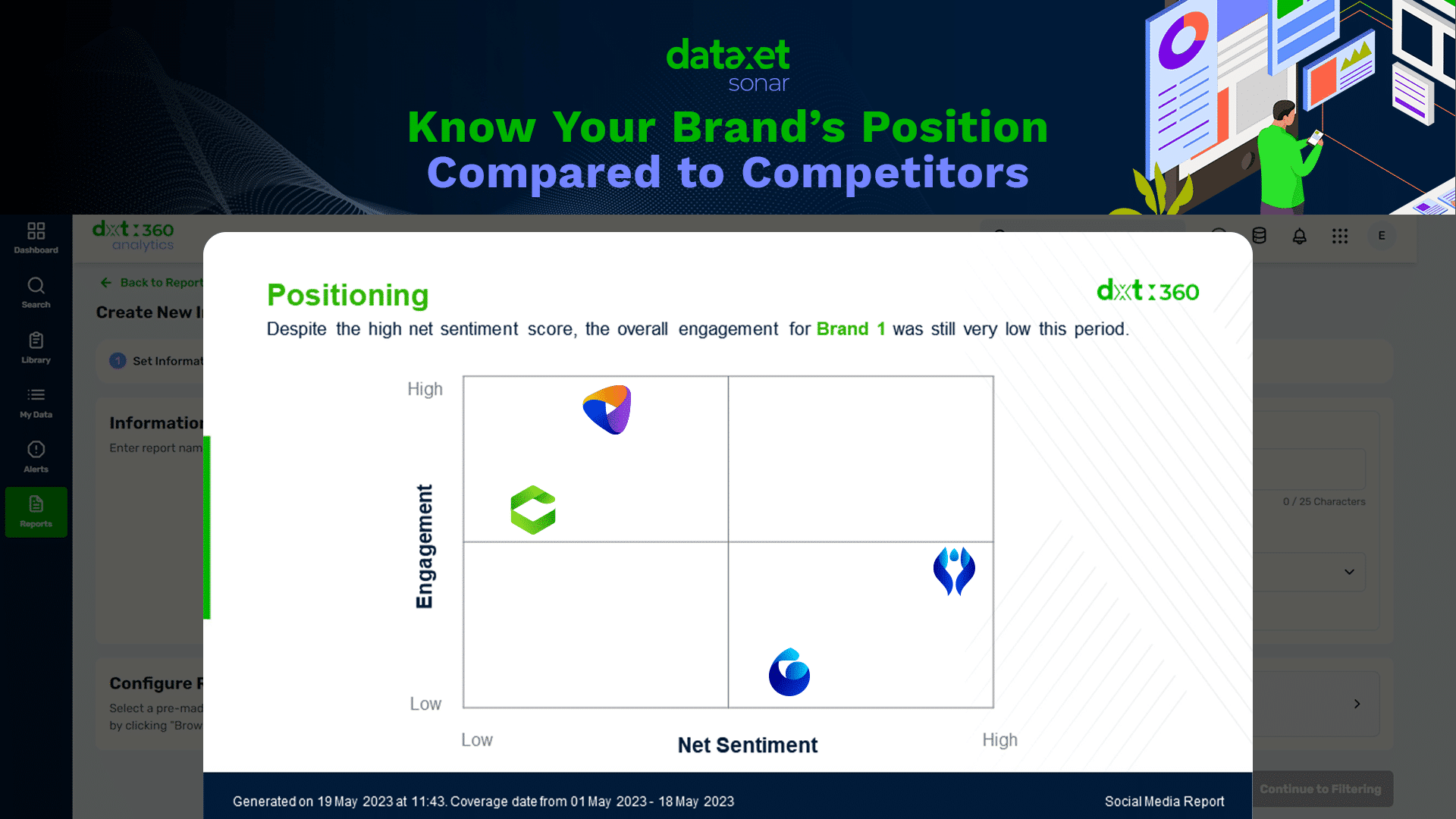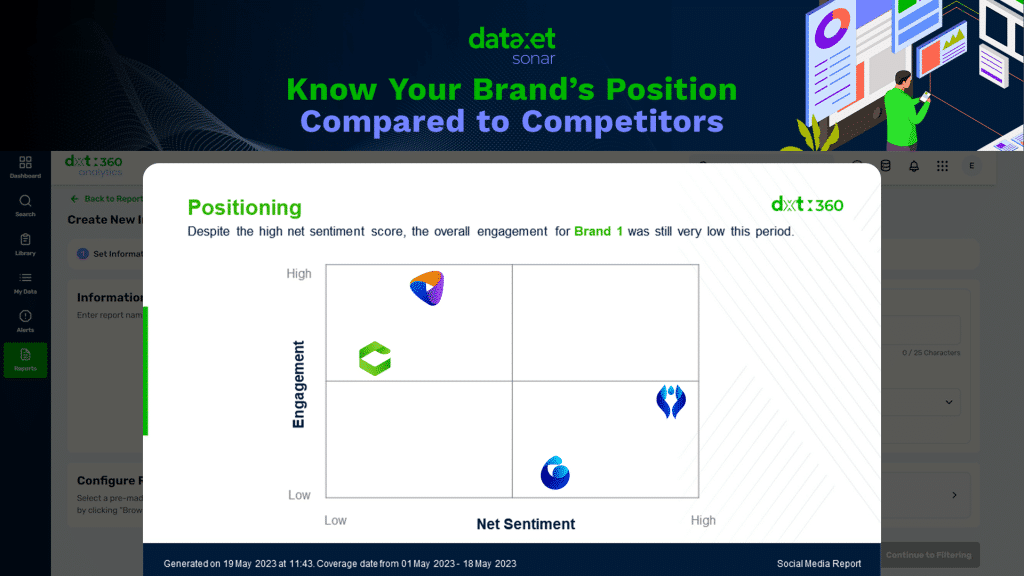 Customizing Reports & Shaping the Future
Another advantage of these reports is their adaptability. They're generated in PowerPoint format, which provides you with complete control to customize and curate them as you see fit. Add your unique insights and tweak them to align with your brand identity and communication style – all without starting from zero.
The integration of this highly sought after technology into our media monitoring and social media tools has taken our data-driven insights to unprecedented heights. Bid adieu to manual report creation and welcome the efficiency and accuracy of AI-generated reports. This breakthrough allows you to unlock the full potential of your data, driving growth and success through informed decision-making.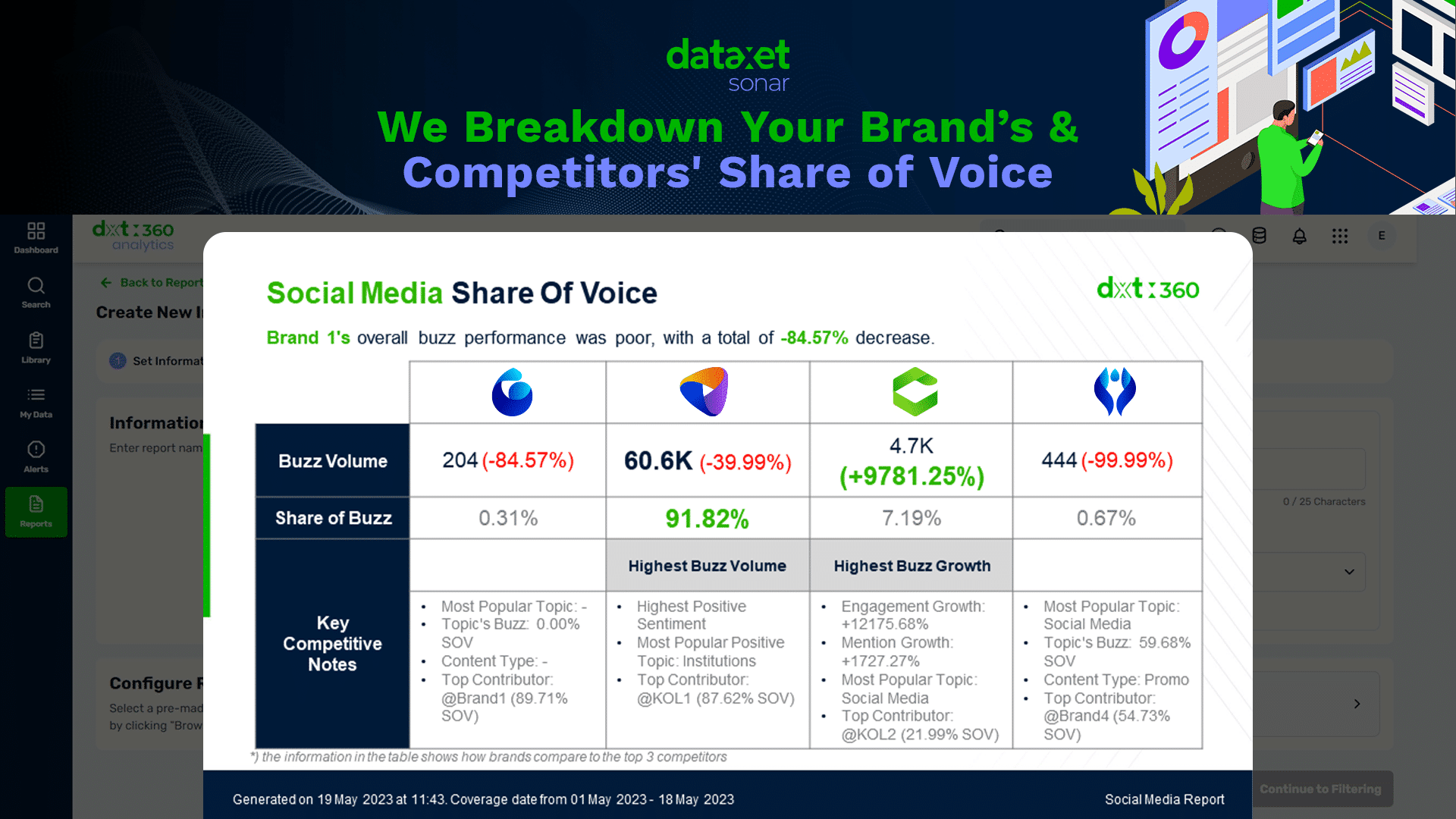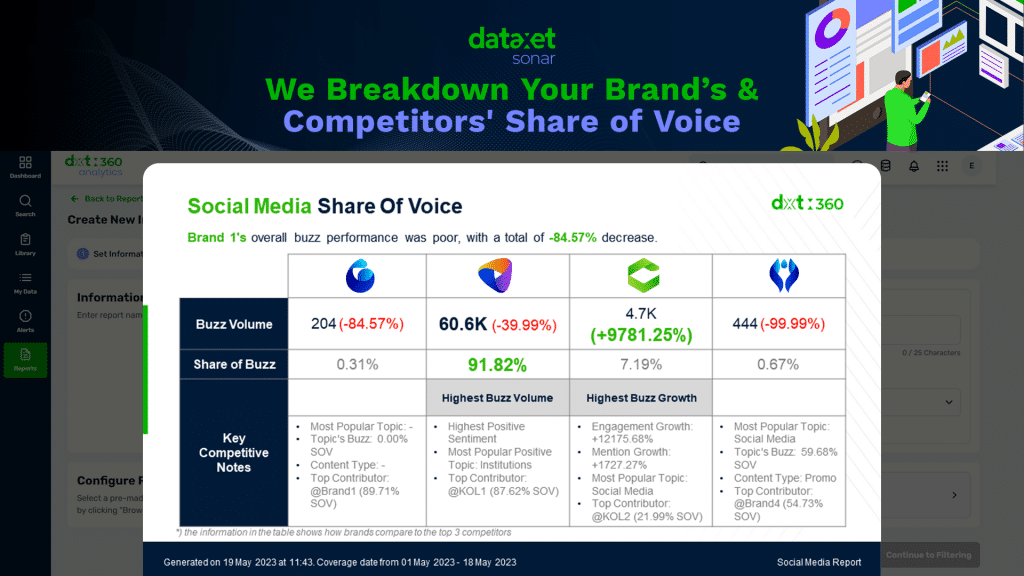 Your Ideas Shape Our AI-Powered Future
At Dataxet:Sonar, our commitment lies in continual optimization and innovation. We actively seek to expand and enhance our features based on your feedback and needs. We value your input highly and encourage you to share suggestions for the insights you'd like to see in future reports. These invaluable ideas will play a pivotal role in shaping the future of our analytics tool.
As we draw towards a conclusion, let's review the game-changing advantages of our AI-driven insight reports:


Efficiency: Significantly reduce the hours you spend on manual report generation, offering a major boost in productivity.
Accuracy: Provide precise and reliable insights, eliminating potential human errors and ensuring data accuracy.
In-depth Analysis: Offer comprehensive metrics calculations, performance comparisons, and content analysis. This holistic overview of your campaigns and tags aids in better understanding and strategy formulation.
Customization: Since the reports are generated in PowerPoint format, it's easy to add a personal touch, aligning them with your brand and communication style.
Data-Driven Decision Making: With AI-generated reports, you gain more than just data. You gain actionable insights that empower informed decision-making and contribute to business growth.


Now, it's time to experience the transformative power of our AI-driven insight reports. Don't just navigate the digital landscape, but master it with our state-of-the-art media monitoring and social media analytic tool. Get in touch with us to learn more about our cutting-edge solutions and gain a competitive edge. Embrace the future of data analysis, today.