In the era of digital transformation, social listening tools and media monitoring tools have become essential for businesses to stay on top of their game. These tools enable businesses to gather valuable insights from online conversations and media coverage, which can inform their strategies and decision-making processes. One such tool is DXT360, a one-stop intelligence powerhouse that provides comprehensive access to critical marketplace data.
DXT360 is a flexible platform that can be tailored to meet the unique needs and goals of each client. It combines a range of features and capabilities, such as sentiment analysis, influencer identification, and competitive benchmarking, to provide a holistic view of a company's brand reputation and industry trends.
Recently, DXT360 has released a feature, integrating OpenAI technology, that enhance its capabilities even further: News Summarizer feature.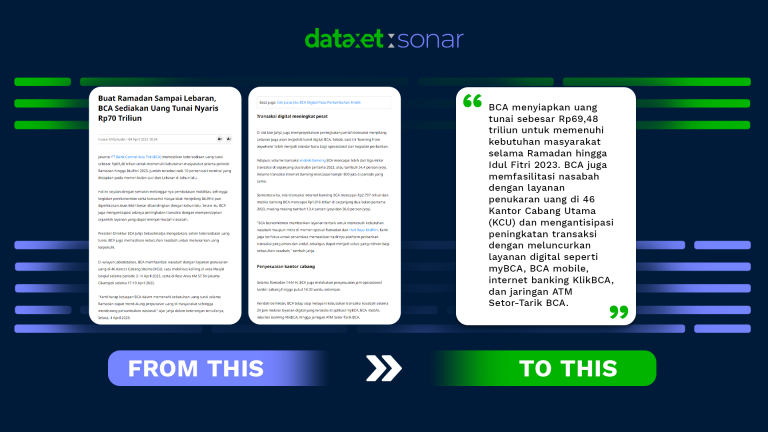 The news summarizer feature, powered by OpenAI technology, allows users to quickly obtain the essence of an article. For example, a news article on VNEXPLORER.net about BCA providing nearly IDR 70 trillion in cash for Ramadan until Eid is condensed into a concise summary by DXT360's news summarizer feature. Currently available for online media, this feature is especially helpful for businesses that need to stay informed but lack the time to read lengthy articles.
With these new features, DXT360 continues to provide businesses with a powerful tool for monitoring their brand reputation, tracking industry trends, and gathering valuable insights from social media and media coverage. The platform's flexibility and scalability make it a great choice for businesses of all sizes and across all industries.
In conclusion, social listening tool and media monitoring tool like DXT360 are essential for businesses that want to stay ahead of the competition and make informed decisions. With its new features, DXT360 continues to provide businesses with a comprehensive and flexible tool for gathering critical marketplace data.