Indonesian netizens flocked the social media on the morning of January 28th after many got the news of 2 discount code vouchers "distribution" from Tokopedia. The e-commerce platform gave Rp 100.000 discount with a minimum purchase of Rp 150.000. As tweeted by many, the codes TMRW100PEKR6X50 and TMRW1002TJH7GP8 can be used to buy any product for multiple transactions. 
As for now, the crisis has been mitigated and the voucher codes are invalid to use. Netizens also said that some of their transactions using the codes were canceled by the platform.  Head of External Communications Tokopedia, Ekhel Chandra Wijaya claimed that only ineligible transactions were canceled. Those transactions didn't fulfill the Terms & Conditions. These vouchers were intended for TMRW by UOB credit card holders only. This crisis caused Tokopedia to lose Rp 7 billion.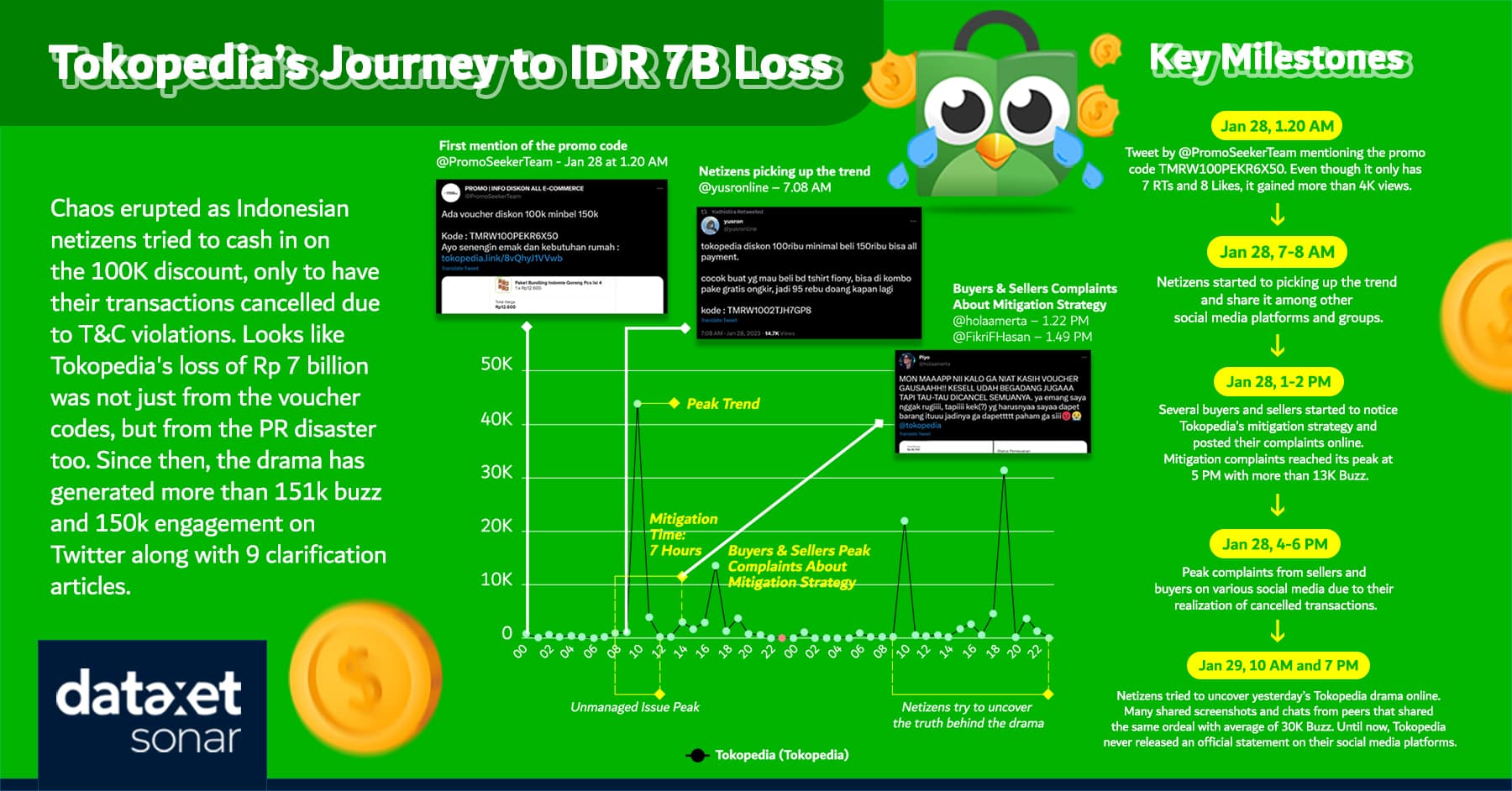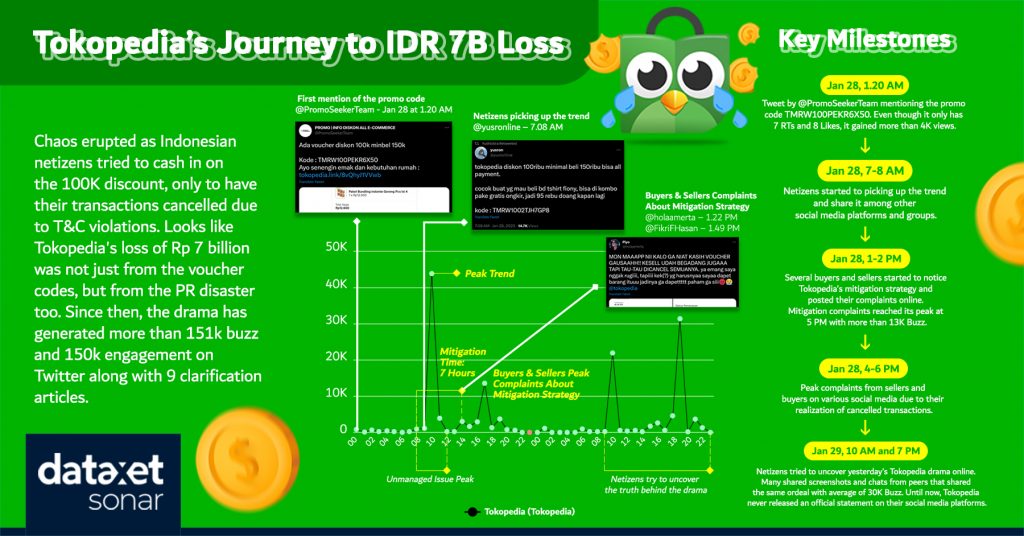 The promo codes were first mentioned by @PromoSeekerTeam via Twitter on 28 January 2023 at 1.20 AM. But Indonesian netizens didn't start to pick up the spree until 7-8 AM. Sadly, not until around 1 PM that Tokopedia finally took action to nulled the bug spree. 
This delay caused many sellers already pack and sent some of the packages or complained that they already waste time packing the soon-to-be-sent packages. One of the complaints came from @FikriFHasan about his incoming orders that were canceled by the Tokopedia system. @holaamerta also tweeted a similar thing, that was how disappointed she was since she couldn't get what she ordered. Complaints regarding Tokopedia's mitigation strategy reached their peak around 5 PM.
The very next day, netizens tried to uncover what was the drama all about especially the cause. They shared screenshots and chats from their peers that suffered from the same ordeal. The buzz average on 30K with peak time around 10 AM and 7 PM.
What is the moral of the story?
When your business operates in the online realm, effective crisis management is of utmost importance. Merely monitoring trends won't suffice – businesses must fortify their monitoring processes with integrated, automated solutions such as DXT360 Analytics. With the ability to set up crisis alerts tailored to your brand and delivered straight to your inbox or WhatsApp, there's no need to risk a devastating loss. Embrace the power of DXT360 Analytics and elevate your crisis management game today!